VaYU has a unique curriculum for the Master of Science (Yoga) delivered in four semesters.
Cohort-based program
Students admitted to a term follow the course of study together throughout the 4-Semester program. The courses offered for each semester are fixed.
30 Credits in total
10 courses (24 credits) plus a Masters Research Project (6 credits)
Mandatory Personal Contact Program (PCP)
PCP is a hands-on training program offered in first and third semester.
Locations for PCP
PCP is routinely at our main campus in Los Angeles (Norwalk City), CA, USA.
Also, optionally at VaYU certified satellite campuses across USA and Asia (subject to sign-up by a minimum of 6 students).
Students may need a visa if they wish to take PCP outside of their country.
Four semester, 30 Credits
Detailed Course Catalog
VaYU has a unique online curriculum for the Online Master of Science (Yoga) program delivered in four semesters (30 credits). Program duration is 21 months. Admitted students follow a cohort-based program, i.e., the same course of study throughout their four semesters, consisting of 10 online courses (totaling 24 credits), and, an online research project of 6 credits or equivalent 2 additional courses, for a total of 30 credits (see course path).
Students can choose one of the following optional tracks to specialize in Yoga Therapy, Yoga Research, and Yoga Philosophy. While Yoga Research Track needs a 6 credit thesis, Students specializing in Yoga Therapy or Yoga Philosophy can substitute course work for part or all of the research project.
A mandatory Personal Contact Program (PCP) in the first and third semester is the highlight of the program with face-to-face hands-on training. PCP is a physical gathering of students to obtain deeper training on certain aspects of Yoga in Asanas (physical postures), Kriyas (purification techniques), Mudras (hand gestures), Bandhas (locks), and Pranayama (control of vital energy through breathing), and Meditation.
PCP is usually offered at the main campus in Los Angeles, USA, but might be offered across VaYU satellite campuses across the US, Asia (China, Japan, Singapore, and Bengaluru, India) depending on student demand and faculty availability. PCP locations are announced early during the semesters it is required.
Program Highlights
Four Semesters, 21-months, 30 Credits
Online MS (Yoga) Program Highlights
10 Core Courses
Specialization in one of the streams below in 4th Semester

Yoga Therapy (2 additional courses),
Yoga Research (Semester-long Research Project),
Yoga Philosophy (2 additional courses or Project),

175 hours of Practical Lab Training; and,
Personal Contact Program (PCP) in the first and third semester in residency, or, online during COVID times.
---
Course Number Nomenclature
Courses are numbered as follows:
One letter, Y for Yoga
Two letters, MS for Master of Science
One digit for Semester Number (such as 1, 2, 3, or 4)
Two digit Course Number (such as 01, 02, 03, etc.)
One letter course type. T for Theory, P for Practice (or a PCP Component)
For example: YMS 302P is an Yoga MS 3rd semester course number 02 with a Practice or PCP component.

Course Path
Course Path for Master of Science (Yoga) with prerequisite courses represented.
Numbers represent 'Course Credit Hours.' (PDF format)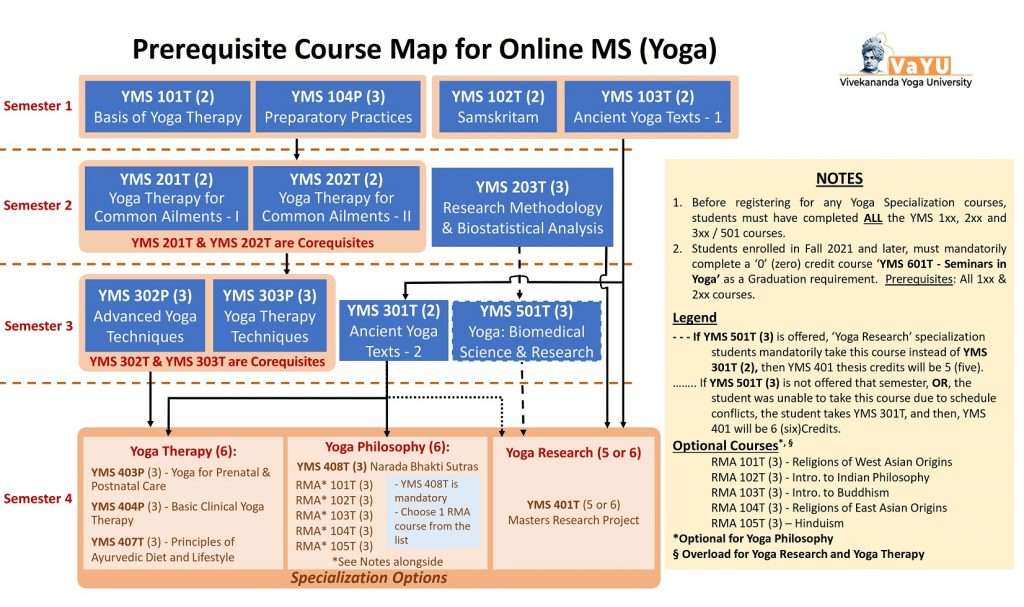 Basis of yoga therapy explores the therapeutic basis of yoga through the study of ancient (The Upanishads, The Bhagavad Gita and Yoga Vasishtha), Hatha Yoga writings from the middle ages (Gheranda Samhita and Hatha Yoga Pradipika), and in other systems of Indian Medicine.
This course is waived for (a) RYT 300/500 certificate holders with VaYU Bridge Course YBC 101P, or (b) SVYASA certified YIC holders.
Prerequisites: None
The goal of this course is to give the student basic medical knowledge of the disease and it's yogic Management to facilitate comprehension of the physiological basis of health and disease. We study the aadhi/vyadhi concept of disease, and the physiology of psycho-somatic ailments. In this course, we focus on the following disorders: Respiratory, cardio-vascular, endocrinal/metabolic, and excretory systems.
Prerequisites: YMS 101T, YMS 104P | Corequisites: YMS 202T
This course covers yogic writings appearing in post-vedic Indian scriptural corpus, specifically the Yoga Sutras and medieval Hatha Yogic texts. We will study the writings both for their content and in their historical context. Special emphasis is placed on ashtanga yoga, kriya yoga, the theory of klesha, yogasana, bandha, shat-kriya, and pranayama.
Prerequisites: YMS 102T
Courses for Semester 4 - specialization tracks
YOGA RESEARCH TRACK
A thesis or dissertation constitutes an important contribution to scholarship. A student should, in consultation with their academic advisor, choose a topic in one of the following areas: Yoga and Spirituality, Ancient Yogic Texts, or Yoga Therapy. The thesis topic is chosen in such a way as to demonstrate the graduate student's ability to carry out independent investigation and to present the results in a clear and systematic form. While the length of thesis submission vary, it should be roughly 4000 – 7000 words.
Prerequisites: All 10 Core Courses (1xx, 2xx, 3xx)
RMA Specialization Courses
This course deals with the histories, doctrines, practices and personalities of Zoroastrianism, Judaism, Christianity and Islam.
Prerequisites: None
Jyotish Specialization Courses
The Jyotish foundation course aims to teach the building blocks of Jyotish Shastra. This course will introduce the basics of Vedic Astrology that forms the starting for students to learn the subject as per the teachings of the Maharishis.
Prerequisites: None
Certifications for Graduates
C-IAYT from International Association of Yoga Therapists (IAYT)

VaYU and the International Association of Yoga Therapy (IAYT) share a common goal of promoting evidence-based practices rooted in traditional ancient Indian wisdom.
As an IAYT Member School, students actively enrolled in VaYU are eligible to join IAYT at a discounted Student Member rate to receive access to IAYT publications (Yoga Therapy Today, International Journal of Yoga Therapy), special rates for IAYT conferences, and other discounted products and services.
Graduates of VaYU's Online MS (Yoga) may learn more about the IAYT-certification (C-IAYT) Portfolio Review & Evaluation (PR&E) pathway here. VaYU does not guarantee certification through IAYT at this time. Interested candidates may write to IAYT using Contact Us on iayt.org to request more information.
---
Yoga Instructor Certificate (YIC)

All Graduates of the VaYU's Online MS (Yoga) Program get a Yoga Instructor Certificate (YIC) from SVYASA.
---
Registered Yoga Teacher (RYT-200)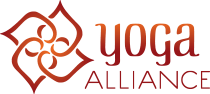 VaYU's Online MS (Yoga) Program Training far exceeds the requirements for Registered Yoga Certificate (RYT-200) from Yoga Alliance. VaYU's partner schools will provide the certification if a Graduate desires.
Bridge Courses - for Certified Yoga Teachers & Therapists
VaYU realizes that as an experienced Yoga Teacher with a YA-RYT 200/500 certificate, you deserve appropriate recognition for your achievement and hard work.
VaYU "Bridge Course" YBC 101P is designed to upgrade you from the YA-RYT level to VYASA Yoga Instructor Course (YIC).
Course Description:
This intensive 1-week long course is designed to bridge the gap between the Yoga Alliance- RYT curriculum and the techniques taught in YMS 104P Preparatory Practices, Asanas and Shat Kriyas (3 Credits). With the successful completion of this bridge course, you will receive 3-course credits waiver for YMS 104P towards your M.S. (Yoga) program. In addition, you will receive a Yoga Instructor's Course (YIC) certificate from VYASA USA. YIC is a highly-respected teacher training course that emphasizes traditional Hatha Yogic techniques (in addition to asanas, these include traditional pranayamas, mudras, bandhas, and purification techniques), and a deep study of the source books of Yoga such as the Upanishads, Yoga Vasishtha, Hatha Yoga Pradipika, Gheranda Samhita, The Yoga Sutras and The Bhagavad Gita.
Bridge Course - YBC 101P
Course Length: 1-week
Online Theory: 40 hours
PCP: 8 hours (1-Day)
Benefits:
Waived Courses for MS (Yoga): YMS 104P (3 Credits)
Upgraded To: YIC Certificate from VYASA USA
Online Theory: Syllabus
Personal Contact Program (PCP): 8 hours training conducted over 1-Day during the 15th Week of the first semester at certified VaYU Satellite Campuses across USA and Asia.
Teaching can be based in or out of the classrooms, the use of computers and the Internet forms the major component of e-learning.