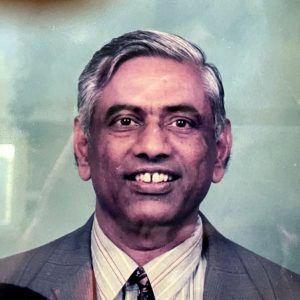 Mr. Babulal Gandhi
M.S. EE & Doctoral work EE ( UK /USA)
Retired Aerospace Executive in Los Angeles Area
Seeker, Social Worker & Passionate Yogi
Founding Chairman of VaYU
Work Experience
RAYTHEON SEMI-CONDUCTOR, EL SEGUNDO/CULVER CITY/FULLERTON, CA.
2001-2005: Satellite manufacturing support as Senior Principal Engineer
(after early retirement in 1998 for 3 years of community service, 1998-2001)
1979-1982: NASA Satellite Test Engineer, ground systems support such as torpedo, submarines, etc.
NORTHROP GRUMMAN, MANHATTAN BEACH/WOODAND HILLS, CA.
1982-1998: Assistant Project Manager, military satellites manufacturing.
Received Best Project, financial management award from Airforce
1977-79: Litton Guidance/Data Systems, Senior Engineer, Engineering Specialist supporting manufacturing F-18 & communication systems
POSSIBLE ACADEMIC CAREER
1982: Declined Associate Professorship in Electrical Engineering at Cal State Northridge, California to join Northrop Grumman.
KULITE SEMICONDUCTOR, RIDGEFIELD, NJ
1972-1977: Section Head for pressure transducer electronics hybrid. Supported Sandia Lab/ Lockheed Martin/ Pratt & Whitney
JAIPUR METALS AND ELECTRICALS, JAIPUR, INDIA
1965-1972: Test engineer, Industrial Engineer - PERT/CPM- foreign projects in Malaysia, Sudan, Ghana, & Hong Kon
Education & Training
B.Sc., Bachelor of Electrical Engineering, Gujarat University, 1965
Post graduate Research study in Electronics Engineering, University of Newcastle, UK., 1966-68
Completed specialization, passed qualifying examination for Doctorate scored 100% - awarded fellowship from Marconi Electronics
Software and Industrial engineering PERT/CPM certificate from Institute of Management, Mumbai 1967
MS., Electrical Engineering from Fairleigh Dickinson University, N.J., 1975
Post-Masters studies in Electrical engineering, Stevens Institute of Technology, N.J., 1976
Doctoral studies in Electrical Engineering, Newark College of Engineering (NJIT), 1976-77
One semester course on Radiation Hardening (Neutron /EMP), 1978
Graduate courses in Electrical Engineering at University of Southern California, 1978
Excel Management module ( MBA 21 credits)
Languages: ALGOL,FORTRAN,COBOL PDP-11 &, Sentry seven LSI testing (six weeks full time residential course) @ Fairchild Semiconductor, San Jose, 1982
Leadership education in Executive Management, full time residential course at Anderson School of Management at UCLA, Los Angeles, 1983
Fluent -read, write and speak in Sanskrit since the age of seven.
Doctoral Study completed on Astrology/yoga
Community Service
2014- Present: VaYU Founding Trustee, Vice Chairman
1995 – Present: VYASA (Vivekananda yoga research institute)LA since 1995, incorporated in 2002. Founding President & Board member. Conducted teacher's training, therapy workshops. Examiner for oral tests of Post Graduate Diploma in Yoga Therapy (PGDYT) students
2001-2010: Traveled 2 months every year with a spiritual master all over USA, Brazil and India, supporting/participating in retreats & discourses on Vedanta
1998-2000: Secretary, Hindu Heritage Academy – welcoming and taking visitors from outside India on guided tours to places of pilgrimage, having taken early retirement from Raytheon to move to India for 3 years
Adjunct professor teaching religious courses, Hindu University of America, 1995-1997
Sunday school training for children, religious discourses, magazine publication 1977-1991
Served enlightened Guru and Paramhans Sadguru 1963-1982
Raamkrishna Mission - served enlightened Swami and Paramhans Swami (study of Vedanta), 1972-1977