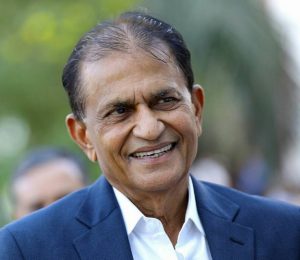 Bhikhubhai Ukabhai Patel
Founding Trustee
Bhikhubhai Ukabhai Patel is founder and vice-chairman of Newport Beach-based Tarsadia Hotels, and the Chairman of Tarsadia Foundation. Hailing from Tarsadia, Gujarat, and after graduating from the University of Baroda with a Bachelor of Commerce degree, BU joined his relatives in Zambia, Africa. With his entrepreneurial spirit he started a small apparel retail store which he grew into a clothing manufacturing facility which by 1970 employed 200 people.
In mid-1976 he emigrated to Irvine, California US purchasing his first motel, which he was able to grow into one of the most successful privately-owned hotel management companies in the United States that includes flagship properties such as the Hard Rock Hotel in San Diego and the San Mateo Marriott.
Bhikhubhai has over the years transitioned into philanthropy and community service. He founded Tarsadia Foundation, an international humanitarian nonprofit organization actively involved in improving lives through health and human services, education, and economic empowerment. He has also founded the Sanatan Dharma Temple, a community cultural center located in the heart of Little India in Los Angeles County. He helped build the Asian American Hotel Owners Association, a 10,000 plus member organization dedicated to the Asian members of the hospitality industry. He is also the Trustee of the American India Foundation, an organization focused on furthering the social and economic prosperity in India. He advises several charitable organizations in India and the United States.
Bhikhubhai along with Babubhai Gandhi and Dr. Nagendra originally came up with the concept of Vivekananda Yoga University (VaYU) in 1997, that has now been realized.