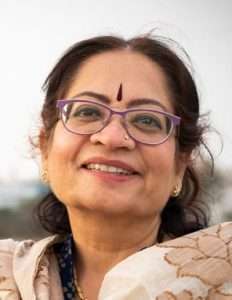 Karuna Nagarajan, MBA, MSc, PhD.
Professor, VaYU
Email: kxn@vayuusa.org
Academics:
Ph.D. (Yoga)
M.Sc. (Yoga)
MBA
B.Com.
Current Designation:
Associate Professor, S-VYASA Yoga University.
Founder and Managing Trustee of Svaraveda Foundation, an exclusive institute for Music therapy research and Courses.
Experience in Academics:
Chief Compiler of Self-Learning Material on Yoga for Distance Education: Compiled more than 300 SLM for Distance Education Courses– S-VYASA. Yoga instructor's Course (YIC), Post Graduate  Diploma in Yoga Therapy (PGDYT), Bachelors of Science  (BSc Yoga) and Master of Science (MSc) – Nov 2005 to till date
Teaching Experience:  Yoga Philosophy and Health, Hatha yoga, Yoga therapy Principles & Practice, Cultural History of India, Patanjali Yoga Sutra, Bhagavadgita, Indian Culture, Streams of Yoga, Health Philosophy and Yoga, etc -  Aug 2007 – till date.
She has guided more than 100 students for MSc Dissertation and currently guiding six Ph.D. students.
Course Coordinator for Post Graduate Diploma in Yoga Therapy (PGDYT )
She is an expert committee member in many national bodies on Yoga
She has 18 publications on Yoga and has authored multiple books. Her latest book provides an Introduction to Indian Music Therapy (2021).