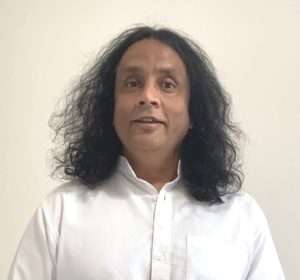 Murali Venkatrao
Vice Chair, VaYU
Vice President of Academics
Education:
Bachelor of Eng., Bangalore University
Master of Science, (Comp. Sci.), Kansas State University
Ph.D. (ABD), Yoga, SVYASA University
Short Bio on Murali Venkatrao
Murali Venkatrao has 18 years of experience as a yoga teacher, and 25 years of experience as an engineer. He is currently the head of Hatha Yoga program at the Ananda Institute of Living Yoga in Seattle, WA. He is also a consulting data scientist at the IDX group in Microsoft Corp.
Murali serves as a Minister at Ananda Washington, and in this capacity has taught various courses on Vedanta, Hatha Yoga, Yoga philosophy, yoga therapy, beginner and advanced teacher trainings, and more.
In his work as an engineer, Murali specializes in Big Data and Machine Learning in the area of Information retrieval. He is one of the inventors of MDX, a multi-dimensional query language for large databases; he has served on various national and international standards bodies, including serving as one of the editors of the SQL query language.
As a PhD (ABD), Murali's research is focused on diabetes risk reduction and glycemic control through yoga techniques.