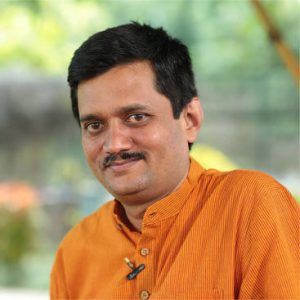 Pandit Narahari Katti
Associate Professor, VaYU
Email: nxk@vayuusa.org
Pandit Katti Narahari belongs to a traditional family of astrologers from, Koppal district, Karnataka. Katti studied under the tutelage of his elders in the family led by his grandfather.
He began his Jyotish journey at the tender age of 8 following the strict traditional way of guru-shishya parampara. The intensive Jyotish training, which was taught according to the ancient traditional way, helped him to achieve the depths of Jyotish with many traditional secrets. He later graduated in the field of commerce and then entered the field of Information Technology.
Katti is now a senior 23+ years SAP ERP technology global consultant and a trainer to many multi-national companies worldwide. He has earlier worked in Intel Corporation India and USA and was the SAP global lead for Autodesk.
He uses Brihat Parasara Hora Shastra, Jaimini Upadesa Sutras, Brihat Jataka, Laghu Parasari and Saravali as the foundation of Jyotish.