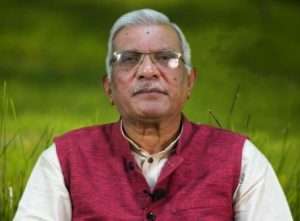 NV Raghuram, BE
Professor, VaYU
Email: nvr@vayuusa.org
Founder Chairman, YOGA BHARATI, USA
N.V. Raghuram, Founder chairman and spiritual guide of "YOGABHARATI USA", Founder chairman of "DISHA BHARAT" Bengaluru is a student of yoga and spirituality from the early childhood. During the days of engineering studies, he had clarity that he would work for about ten years to earn his livelihood and the rest of the time he can pursue and give spiritual knowledge to the needy.
Accordingly, he worked as engineer in various sectors for little more than ten years before he resigned from the job.
In 1977 he attended Vivekananda Kendra, Kanyakumari to have deeper knowledge of yoga, and vedanta from ASN Sastry. From 1980 until 2015 he was honorary volunteer for VYASA and sVYASA University Bengaluru. he started Kendra centers in his work places wherever he was posted.
Since 1990 Raghuram has been traveling all around the globe (more than 50 countries) for the past three decades guiding research projects Teacher training programs and retreats in England, Germany Turkey, Japan, China and USA. Most fascinating work is in the Muslim country Turkey where he has more than 300 yoga teachers trained by him and working in several cities. They also have been initiated into mantra and meditation.
He had conducted hundreds of Yoga Teachers Training Courses, thousands of Corporate Stress Management Workshops and Yoga Therapy Workshops both in India and abroad.
He had introduced Yoga Therapy and Research in KWA Stift Rottal Neurological Clinic in Germany and Memorial heart hospital in Istanbul Turkey.
He initiated the most prestigious cancer research project in MD Anderson Cancer research center Houston USA along with Dr Lorenzo Cohen. and has been coauthor for the research publications.
Raghuram organized three international conferences in USA two under VYASA USA and one under Yoga Bharati.
He started a spiritually oriented yoga organization YOGABHARATI in Cupertino California, which has branches in several parts of USA, Canada, Turkey and in India.
He had been honored with "Yogashree" award. He was a member of the Indian delegation for a UN conference in Uruguay in 2000 on education and was a delegate representing India in WHO at Geneva, Switzerland, in 2005.
He had given Yoga training to the first Indian astronaut Rakesh Sharma.
He had been invited in the panel of experts to suggest the National Health Policy to Dr Harsh Vardhan, Former Union Health Minster, Govt. of India.
He has been the chief guest in San Francisco, California at international day of yoga celebrations, key note speaker at the annual conference Sri Aurobindo Society in New Delhi and at Center for Spiritual Enlightenment in California USA.
He is the recipient of Vivekananda Vibhuti Award by Dhruva college of Management Hyderabad in association with Vibuti foundation.