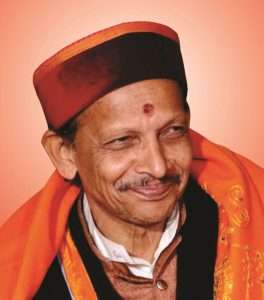 Ramachandra Bhat, MA, PhD, D.Litt.
Professor, VaYU
Email: rgb@vayuusa.org
Vidwan in Vedanta and Nyaya Darshanas
Current Positions
Vice-Chancellor, S-VYASA University
Chairman, Veda Vijnana Shodha Samsthanam, Bengaluru
Member of Doctoral Committee in Tumkur University
Member of General Body, MSVVP, Ujjain
All India Gurukula Yojana Pramukh, Karnataka
International Conferences
Presented a Research Paper in Melbourne, Australia, 1994.
4th Vedic Conference held at University of Texas, USA, 2007.
Presented many papers in INCOFYRA, S-VYASA.
Headed Shastra Parishat in 16th World Samskrita Conference, Bangkok, 2015.
Books and CDs published
Yoga & Mental Health (Editor), Sonda Swarnavalli Samsthanam, Sirsi, 2009.
Atmadarshanam, Veda Vijnana Gurukulam, Bengaluru, 2010.
Manah Prashamanopayah, Samskrta Bharati, Delhi, 2010.
Veda based Ecology, Samskrta Bharati, Delhi, 2012.
Veda Vijnana Paramyam (Samskrita), 2013.
Psychosynthesis in Bhagavad Gita, 2016.
Kannada Publications
Dhanyo Gruhasthasramah
Dvijanma Brahma Uchyate
Srushti - Pushti
Daarige Deevige
Ashrama Dharma
Honors
Bhavabhuti Puraskara by Madhya Pradesh Govt, conferred on, at Bharata Bhavan in Bhopal, 2006.
Swami Gangeshwaranandji award by Samshodhana, Sirsi, 2006.
Acharya Pravara by Swarnavalli Brahma Vidya Samsthanam. Sirsi, 2009.
Gurugaurava Prasahasti by Jnana Prabodhini, Pune, 2009.
Deerghakala Samskrita Seva Puraskar by Vishwa Samskrita Pratisthana, Shankara Math, Bengaluru, 2009.
Doctor of letter award from Tumakur University for submitting the thesis entitled as "Veda Vijnana Paramyam", 2013.
Vidvat Sammananam by Veda Vyasa Parisara Kangada, Himachal Pradesh, 2013.
Bharatanahalli Seema Award for International Reputation, 2014.
Vidvat Samman by MES College, Bengaluru, 2014.
Shaastra Vidvat Samman by BHU, Varanasi, 2015.
Erya Prashasti Award, 2015.
Shaastra Vidvat Anugraha by Shankaracharya Shri Shri Bhatrati Teertha Swamiji, Shringeri, 2015.
Atma Svastya Shree Award by Rudrakshi Math, Belgaum, 2016.
Vishishta Nagarika Samman by Parivartana Prabha, 2016.
Pratibha Ratna Award by Karnataka State Teachers Association, 2016.
Shastra Vidya Nidhi from Veda Shatra Poshini Sabha, Mysore, 2017.