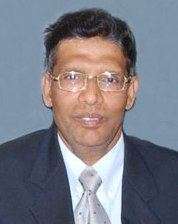 MK Sridhar, PhD
Professor, VaYU
Formerly Dean of Academics (2016-17) S-VYASA Yoga University (Deemed to be), Jigani, Anekal Taluk, Bengaluru.
He is Hon. Adjunct Professor, Hindu University of America, Florida. He was Hon. Visiting Professor, Yoga University (Deemed), Bangalore (2009 onwards) and Hon. Director of Research, Sri Chidambara Institute for Research and Development, Gubbi.
He was the Registrar of Karnataka Samskrit University, Chamarajapet, Bangalore (June 07, 2014 to December 06, 2015), Deputy Director, Publications wing, Karnataka Samskrit University (March 2012 – July 2013) and Hon. Dean, Division of Yoga and Humanities, Yoga University (2011-16). He was an Associate Professor of Sanskrit, National Degree College (Autonomous), Basavanagudi, Bangalore - 560 004 and was HOD of Sanskrit, National Degree College (Autonomous), Jayanagar VII Block, Bangalore -70.
He was a Fulbright Scholar (2000) with South Carolina University, USA (selected by the Indian and US Governments), Assistant Professor of Hinduism and Indian Philosophy at Hindu University of America, Orlando (2004 and 2005), an Adjunct Professor at Union University, Cincinnati, USA (2005 - 07).
He has presented papers in 40 International conferences (USA, UK, Europe and South - East Asia), 40 National conferences and has participated in panel discussions on ancient thoughts and modern contemporary issues.
Prof. Sridhar has given invited lectures at Harvard University, Universities at Berkeley, Stonybrook, USA, Oxford University, UK and several universities in India.
He has guided five Indian candidates, a Guyanese Indian, an American Indian for their doctorate and M. Phil degrees (1995-2013), currently guiding six students for their PhD in Yoga, and was a nominated member of PhD committees of Hindu University of America, Orlando, Bangalore, Tumkur, Jain Universities, SVYASA Bangalore and also D.Litt Committee of SVYASA.
His publication comprises of twenty seven books, two monographs, and fourteen articles in international peer reviewed volumes. He has edited/ co-edited several journals and was the Assistant Editor (International), Encyclopedia of Hinduism, USA and India. Chief- Editor of Kannada-English Concise Dictionary (2004).
He is a nominated Theological Advisor in Child and Adolescent Spirituality wing of Search Institute, Minneapolis, USA. He was a UGC Research Fellow (1996-98).
He is the Hon. Director of the Indological Research Foundation, Bangalore.
He is the nominated member, Centre for Classical Kannada, Central University of Karnataka, Gulbarga (2013 -14). He is a member of NAAC Peer Team (2017).
He is a recipient of Ramkrishna International Sanskrit Award (2000) from The Canadian World Education Foundation - Saraswati Vikas, Canada, CTNS Berkeley Global Award for Baccalaureate course development (2001) USA, a Global Indian Awardee (2006) from Chanakya Foundation, Ideal Teacher award from Kashi Sheshasastri Trust, Bangalore (2007), Kapali Shastri Veda Puraskar (2009) and recipient of three state awards (Karnataka Tilaka, Karnataka Kesari 2006, Kempegowda award BBMP, Karnataka Govt, 2011) and National Award for Exemplary Teaching (2011) from Garden City University, Bangalore.
He has documented seminar proceedings of UNDP on population, environment and gender issues.
Dr Sridhar was on the Organizing Committee (Core group) of the Tenth World Sanskrit Conference, Bangalore (Jan. 1997), and World Samskrit Book Fair (Jan. 2011), Bangalore.
Prof. Sridhar has produced several documentaries on Sanskrit course online, environment, Indology and Yoga University.
He is a high altitude trekker, Events Manager, nominated member and office bearer of several State, national and International academic bodies such as GOPIO - New York, Fulbright Alumni Association - Bangalore Chapter, All Karnataka Sanskrit Association, The Bangalore Science Forum and The Mythic Society, Bangalore.