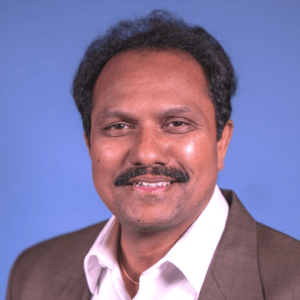 Srinivasa Reddy, PhD
PROVOST
(Chief Academic Officer)
Education:
B. Sc (Honors), Chemistry, 1984 Osmania University, Hyderabad, India
M. Sc (Honors), Biological Sciences, 1986 University of Roorkee, Roorkee, India
PhD, Comparative Biochemistry, 1992 University of California, Berkeley
Post-Doctoral Fellow Cell and Molecular Biology, 1997 University of California, Los Angeles
Dr. Srinivasa Reddy has more than 25 Years of Teaching, Research, and Mentoring Experience at the University of California Los Angeles. Dr. Reddy is currently a Professor in the Departments of Medicine, Molecular and Medical Pharmacology, and Ob/Gyn at UCLA. He is a Fellow of The American Heart Association, Member of the Jonson Comprehensive Cancer Center, California NanoSystems Institute, the Molecular Biology Institute, and the Interdepartmental Program in Molecular Toxicology at UCLA.
Dr. Reddy's research programs are primarily funded by the National Institute of Health and Dr. Reddy has co-authored more than 200 peer reviewed scientific publications. Dr. Reddy advises, mentors, and supervises PhD students, Post-doctoral fellows, Physician Scientists, and undergraduate and high school students. Dr. Reddy is a member of the prestigious "Committee on Teaching" at UCLA (since 2017).
Dr. Reddy is also been serving as a DOM representative of the UCLA Legislative Assembly (since 2017). Dr. Reddy served as a reviewer on the AHA Western Affiliate Peer Review Committee, the Vascular Cell and Molecular Biology study section (NIH/NHLBI) and continues serve on special emphasis panels for the NIH. Dr. Reddy has contributed to the establishment of the International conference on Paraoxonases.
Dr. Reddy is currently serving on the scientific advisory boards of several biotech companies including Cue.me (a diagnostic platform for personalized medicine, actively working on COVID), Glaceum, Inc. (a company that is developing therapeutic strategies to treat metabolic syndrome), BruinPharma, Inc (a company founded at UCLA that is involved in bringing therapeutic strategies for inflammatory diseases), and GutLeben, Inc (a company that specializes in bringing functional juices to treat metabolic diseases).
One of Dr. Reddy's goals is to combine Yoga with scientific research and develop a modern platform for evidence-based Yoga therapy. Dr. Reddy served as an Academic Advisor since the conception of VaYU in 2013. Dr. Reddy has been a mentor and research advisor for S-VYASA Yoga University Bengaluru and VYASA-LA, since 2008.
Dr. Reddy lives with his wife (Dr. Sailaja Reddy, MD) in Cerritos, CA., and has two adult sons (Vivek and Vijay).