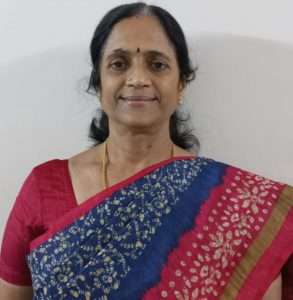 Vijaya Kavuri, PhD
Assistant Professor, VaYU
Email: vlk@vayuusa.org
Dr. Vijaya Kavuri has a PhD in Yoga from Swami Vivekananda Yoga University (SVYASA), Bengaluru. As a long-time resident in the Los Angeles area (35+ years), she wanted to experience the study of yoga in an authentic research setting. She took a year off from the comfort of Cerritos and family, to be at SVYASA as part of her PhD requirement. She is unequivocally certain that it was the right thing to do at that time in the absence of a traditional Yoga University steeped in research within the US. Her PhD research was conducted in Los Angeles in a hospital setting and the papers were published in peer reviewed international journals.
Since obtaining her Doctorate degree, she has been an Assistant Professor with SVYASA. Dr. Kavuri is a joint director of research at Vivekananda yoga research foundation (VYASA-LA), at Norwalk, California.
She has more than 10 years of experience teaching & mentoring in Yoga, besides conducting research, and providing complementary yoga therapy to individuals and groups locally. In the course of rendering Yoga therapy over the last 8+ years, Dr. Kavuri has become very well versed in yoga techniques for non-communicable ailments; and for other challenges, can offer definite meditative (calming) practices. She has served the community of Southern California helping several clients who were even skeptical at first, but quickly amazed at their own resilience with yoga practice under Dr. Kavuri's guidance.
Many yoga therapy workshops were organized by Dr. Kavuri and her students to help in alleviating several common diseases like gastro-intestinal disorders, cardiac, diabetes, obesity, anxiety and depression, etc. She has continued to guide Yoga instructors and trainees who help adults and children practice yoga as preventative and health-enhancing practice.
Being of the conviction that yoga can benefit humanity greatly, and also knowing from her experience here and in India that it can be inexpensively taken to large populations, her goal is to combine Yoga with scientific research, and to validate Yoga therapy. Yoga is an age-old science that is now being assessed in several different areas as treatment modality and as a means to promote good health addressing lifestyle anomalies.
Dr. Kavuri lives with her husband (Dr. Subbaramaiah Kavuri, MD) in Cerritos, CA., and has two adult children (Hyma Kavuri, MD and Venkat Kavuri, MD).