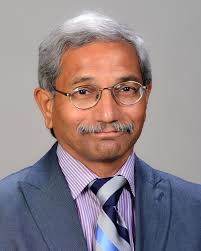 Yashwant Pathak, PhD, MPharm
Professor and Research Director, VaYU
Email: yxp@vayuusa.org
Education:
M. Pharm, Nagpur, 1977
PhD, Pharmacy, Nagpur University, 1989
Executive MBA and Masters in Conflict Management from Sullivan University, Louisville, USA.
Post-doctoral training was at Royal Free Hospital London, UK, Hebrew University of Jerusalem, Israel and University of Michigan Medical Center at Ann Arbor, Michigan, USA.
Dr. Pathak has over 25 years of versatile administrative experience in an academic/ industrial setting as Dean (and over 17 years as faculty and as a researcher in higher education after his Ph.D.) and has worked in student admission, academic affairs, research, graduate programs, Chair of the International Working group for USF Health (consisting of USF Medical, Nursing, Public Health, Pharmacy and Physiotherapy colleges), Director of nano Center and now holds the position for Associate Dean for Faculty Affairs.
Dr. Yash Pathak is an internationally recognized scholar, researcher and educator in the areas of Health care education, Nanotechnology, Drug Delivery Systems and Nutraceuticals.
His major achievements/ recognitions at USF includes:
Outstanding Achievement Award for Global Engagement by University of South Florida, a unique award given to only one faculty/administrator annually, 2016
Fellow of NSF I-Corps USF 2016 and 2020
Outstanding faculty Award for USF March 2017
2019- 2020: Outstanding faculty Award from University of South Florida
2021-2022 Outstanding faculty Award from University of South Florida (March, 2022)
USF Outstanding Research Faculty Award 2022 for the research contribution in 2021.
His major International achievements/ recognitions after joining USF includes:
2022: His Edited book Handbook of Space Pharmaceuticals, Editors: Yashwant Pathak, Marlise Dos Santos Araujo, and Luis Zea , received a Book of the year2022, in Life Sciences by International Academy of Aeronautics, Sweden, Sep 2022
2022- Award for Excellence in Pharmaceutical Nanotechnology, Venous International Foundation, Chennai, India (awarded on 11 th June 2022)
2022: Dr. Yashwant Pathak was included in the roster of Fulbright Specialist February 2022- 2027
2021-2022 Elected as Fellow of American Association for the Advancement of Sciences (FAAS)
Fulbright Senior Scholar Core Fellowship Award 2015-2016 for Indonesia (visiting Ubaya University, Surabaya , Indonesia from Jan till July 2017)
Endeavour Executive fellowship by Australian Government 2015 in collaboration with Deakin University to work on siRNA delivery
CNPQ Brazil Government Fellowship , visiting PUCRS in Porto Alegre every year for one month from 2015 till 2017 working on space pharmaceuticals and microgravity impact on stability of drug delivery systems
2020: Academic Excellence Award from Association of Pharmacy Professionals at APP National Conference at Sunrise University, Rajasthan, India, December 2020.
2018-2019: Fulbright Specialist Fellowship, at Witwatersrand University South Africa established research collaboration. July 2019.
2015: Endeavour Executive Fellowship by Australian Government 2015 in collaboration with Deakin University to work on siRNA delivery.
2015: Dr. Yashwant Pathak was included in the roster of Fulbright Specialist February 2015 - 2021
2014: Lifetime Achievement Award in Pharmacy at Devi Ahlya University in Indore at 8th International conference of Association of Biotechnology and Pharmacy under Golden Jubilee celebration of the University on 18th December 2014
2014: Awarded a Prometeo Fellowship from Ecuador Government and will be collaborating with university in Ecuador Visited for one month)
2014: Awarded a grant from Dalian Medical University First Hospital China, to travel and present workshops at the Dalian Medical Institutions/ Hospital, April–May 2014
2013: Awarded a fellowship from Embassy of England to visit Strathclyde University in Glasgow Scotland to establish research collaboration with USF. Gave a lecture at Glasgow, March 2013
2012: Best Scientist Formulator award at 5th International Conference of ICHMP, at St John Hopkins University, Washington DC
2010: Special Award for Contribution and appreciation at Sullivan University for organizing the Nano conference for three years.
2010: President's cup for Achievement in Master of Science in Conflict Management at Sullivan University, Louisville, KY
2009: President's medal for achievement for Executive MBA at Sullivan University, Louisville, KY
Presently, Dr. Pathak holds faculty appointments at Full Professor in University of South Florida (USF) College of Pharmacy; USF College of Pharmacy Graduate program in Pharmaceutical Nanotechnology; USF Morsani College of Medicine Internal Medicine in Nano Medicine; USF College of Public Health, Division of Global Health; Professor at USF College of Social and Behavioral Sciences; Advisory Board Member for NERC (Nanotechnology Education and Research Centre) College of Engineering, USF, Tampa; Adjunct Professor at JSS University Mysore, India; and Professor at USF College of Sustainability. He serves as an Associate Dean for faculty Affairs at the USF College of Pharmacy. He also has an adjunct appointment at the University of West Indies Arthur Lok Jack Graduate School of Business, Trinidad And Tobago and College of Business at USF for DBA programs.
In August 2010, Dr Pathak joined as Professor and Associate Dean for Faculty Affairs at USF Health College of Pharmacy (COP). Prior to his arrival in Tampa, he was the Assistant Dean for Research and Graduate Programs. Assistant Dean for Academic Affairs, and Chair and Professor of Pharmaceutical Sciences at Sullivan University College of Pharmacy.
Dr. Pathak joined academics after several years of Industrial service in research and development, administration and tech transfer expertise. His last job in industry was Director of research and development at Neos therapeutics in Grand Prairie, Texas.
He worked at Sullivan University which was a for profit organization with less than 10,000 Students providing a three years Pharm D program while USF is a state university with more than 48000 students and is ranked 23rd by NIH for extramural funding and in the top 50 universities of USA. USF is ranked in top ten in intellectual property producing Universities.
He was the member of the leadership team which led to the Full ACPE accreditation of two colleges of Pharmacy at Louisville and Tampa from ACPE and SACS.
He has significant experience in working in international and culturally diverse settings, He has worked in USA, UK, France, South Africa, Brazil, Mexico, Israel, Indonesia and India as a postdoc, faculty member and administrator in academic settings. He has travelled over 75 countries and lectured in many different universities and interacted with a diverse range of cultures.
As a Vice Dean representative for COP at USF, he has been participating in many University and USF Health level committees and has been actively involved in budget and finance management for the college and USF health. He also represents COP in USF world international efforts and was instrumental in establishing collaborations with many universities worldwide.
He has excellent communication, collaborative and interpersonal skills and has significantly contributed to the growth and positive health of the organizations he has been a part of. He has a proven ability to work collaboratively and effectively across disciplines and with diverse personnel at every level of an organization.
He has received several grants, presently he is PI on NIH G11 grant ($500,000 till 2018) Co Pi on Florida High-Tech grant with CORERx for ($198,000 till 05-2016) and Florida High Tech Grant with Xymogen for ($120,000 started form 2015 till 2017). He has also received two grants from Women's health initiative totaling to $ 33000 till 2017. He had a NIH contract grant with Dr Gary Hoyle when he joined USF in 2010 for $28,000 to provide drug delivery systems for drugs to treat chlorine induced lung injuries. He also received $ 10,000 grant from Uberoi Foundation in collaboration with Dr Gurleen Grewal Center for India studies. The money was used to organize a conference in USF World in 2012. Dr Pathak received CNPQ research Fellowship and research funds from Brazil Government for the amount 168,000 Brazilian R $ for three years.
Dr Pathak has edited several books in the field of Nanotechnology (Springer) and Drug Delivery Systems (CRC Press), Antibody mediated drug delivery systems (John Wiley and Sons) and in the field of Nutraceuticals (Taylor and Francis) , Artificial neural network( Elsevier) and conflict resolution and cultural studies, with over 300 research publications, reviews, chapters, and close to 200 abstracts and 17 articles in educational research. He has authored many popular articles published in newspapers and magazines.
He has a passion for teaching and has taught over 3000 students leading to their degrees B Pharm, M Pharm, Pharm D, PhD and Doctor of Business administration (DBA) in his long career started in 1977.
Total number of publications: over 300
Edited books Over 55