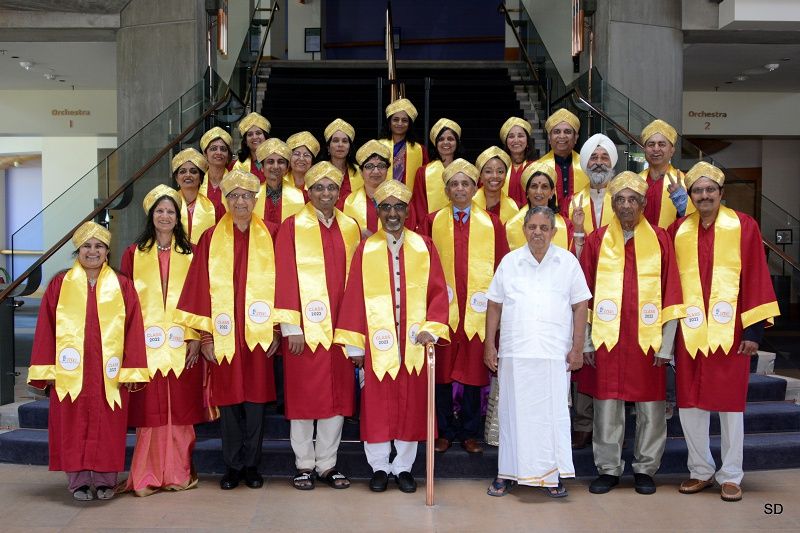 Vivekananda Yoga University Graduates Debut Batch of Master of Science (Yoga)
Los Angeles, CA: Vivekananda Yoga University (VaYU), the world's 1st Yoga University outside India devoted to Yoga education and research, graduated its debut batch of 2022 Master of Science (Yoga) Program at a grand ceremony on Sunday June 12th, 2022 in Los Angeles, California where the university is located.
Dr. H. R. Nagendra, Chairman, Board of Trustees of VaYU, said, "It has taken a full 25 years to realize the dream that Babulal Gandhi and Bhikhubhai Patel Tarsadia [both from Los Angeles, USA], and I had of graduating students from a Yoga University based in the US. With an evidence-based scientific approach at its foundation, what we envisioned was a blend of 'Best of the East with the Best of the West." Dr. Nagendra is also the Chancellor of SVYASA University, the world's first Yoga university in Bengaluru, India, which he founded in 2002.
Professor Gajanan Dhapodkar, former faculty at National Institute of Fashion Technology, Delhi, designed the unique graduation dress with a convocation cap of "Mysore peta" and a colourful graduation gown to blend the east and the west. Dhapodkar said "The 'Mysore peta' reflects the tradition of Rajarshi (saintly king) Krishna Raja Wodeyar IV (1894 – 1940), who was the benefactor of Tirumala Krishnamachari. Krishnamachari wrote the first published book 'Yoga Markaranda' on Yoga in 1932 in Kannada, the local language of the Mysore Kingdom. This sparked a 'Guttenberg moment for Yoga' where Yoga with thousands of years of literature in Sanskrit was now accessible to the common man in his own language. Krishnamachari went on to train four stalwarts B.K.S. Iyengar, K. Pattabi Jois, T.K.V. Deshikachar (son), and Indira Devi- a Russian woman who propagated Yoga to Hollywood.
Prof. Sree N. Sreenath, Ph.D., MBA, President of VaYU said "Five hundred years from hence, the debut MS (Yoga) Program batch of 23 graduates with specialization in Yoga Philosophy, Yoga Therapy, or, Yoga Research will be remembered as pioneers in Yoga graduate education that breached geographical, ethnic, and age barriers (age mid 30s- early 70s). VaYU's success in inspiring our graduates is that half of the graduates have expressed interest in continuing with VaYU for our Ph.D. Program starting Fall 2022."
Babulal Gandhi, Founding Trustee and Vice Chairman, said "VaYU brings in a value proposition of high-quality graduate education and research at a very affordable price through its unique online-based curriculum. Graduates pursue independent career in yoga studio, healthcare, hospitality industry, and entrepreneurship."
Dr. Murali Venkatrao, VP of Infrastructure & Curriculum Development said "Our curriculum follows a flipped classroom approach wherein students throughout the week study materials through carefully crafted videos, audios, PowerPoint slides, and, class notes online, followed by a unique synchronous Zoom Q&A session with the Faculty each weekend. We have proved this unique pedagogy works. In addition, each odd semester, the students undergo a low-residency, 1-week hands-on training in Asanas (postures), Kriya (purification techniques), Mudras (hand gestures), Bandhas (locks), Pranayama (controlled breathing), Dhyana (meditation), and Yoga Therapy at our campus in Los Angeles."
Provost Dr. Srinivasa Reddy, author, researcher, entrepreneur and faculty at the Department of Medicine at the University of California, Los Angeles, and Fellow of the American Heart Association, said "VaYU Faculty are drawn from India and top US research institutions such as MIT, Harvard, UCLA, MD Anderson Cancer Center, etc. Faculty are top-notch, highly-accomplished, world renowned, with 95% of them having PhDs or MDs in yoga or related fields with an average of 26 years of teaching and research experience. VaYU curriculum focuses on three learning objectives: the science of how and why yoga works; art of practicing the yogic techniques deeply; and, treating common diseases using yoga with an evidence based approach."
Applications for the Fall 2022 semester are open with the first day of classes being August 22, 2022. Students can access more information at www.vayuusa.org. Enrollment is also available during Spring 2023.