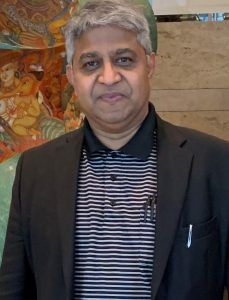 LOS ANGELES – Vivekananda Yoga University (VaYU) has appointed Austin, TX-based Prashant V. Joshi, a seasoned yogi and an executive as its Chief Marketing Officer.
Prof. Sree N. Sreenath, President OF Vivekananda Yoga University, said: "We are delighted to have Prashant V. Joshi in this pivotal role at this critical juncture in VaYU's journey."
Joshi, in his Chief Marketing Officer role, will be focused on growing endowments and enrolments and will be laser-focused on enhancing the student and donor experience.
Joshi originally hails from Mumbai, India and is a EE/Computer Scientist as well as an experienced registered Yoga Teacher and a Certified Yoga Therapist. His past 35 years in the US have spanned academics, corporate and social entrepreneurship experience. He has been active in the field of Yoga for the past 30+ years for local and global impact while also being a Tech/business executive in the high-tech industry for various brands including Sun Microsystems, Hitachi, IBM, along with the start-up ecosystem. As a practitioner and evangelist of Yogic leadership since the late 90s, he has brought Yoga to the tennis courts, schools, community, board rooms and conference rooms for high impact.
Joshi said: "I am humbled and honoured to take on this challenge to accelerate VaYU's growth in MS/PhD enrolments, in developing endowments touching the hearts and minds of its donors, and, introducing new innovative initiatives such as Continuing Medical Education (CME) programs."
VaYU is licensed by the Bureau of Private Postsecondary Education, State of California for Online Graduate Programs (Master's and Ph.D.) in Yoga. VaYU is in the final stages of accreditation with Western Association of Schools & Colleges that accredits Stanford, USC, and U of California. VaYU is approved to be accredited by International Association of Yoga Therapists (IAYT) an international body.